Ghana, in the previous year, recorded many shocking media transfers that made serious waves in the country. Most gurus in the media phase crossed carpets to join forces with different media houses.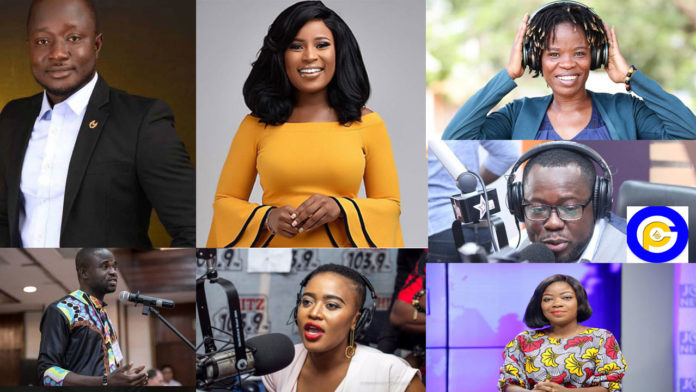 The rationale behind Some media personalities resigning from their media house was the search for better living and proper conditions of service whilst others left entirely to go about their personal businesses that they think is more lucrative compared to being in the media.Ghpage.com has put together a list of some top media transfers and resignations that got the country stunned.
Berla Mundi
Berla Mundi, the popular media personality who has warmed the heart of many Ghanaians and beyond with her outstanding style of presenting was with EIB network's GHOne TV where she hosted Rhythmz Show.
Berla Mundi before Rhythmz Show, she co-hosted Rhythmz Live with popular show host, Black Boy.
Berla was groomed and 'made' at GHOne for years. But in 2019, she moved to join Media General's TV3.
Berla Mundi now hosts "New Day"; morning show program on TV3. She also co-hosts 3Fm Drive Bus Ride Edition with Giovani Caleb.
Ohemaa Woyeje
The popular Media personality in six years had a good stay on Adom FM's mid-morning show "Work and Happiness" as the Host. During this period she gave her fans and cherished listeners of the station an amazing experience of her show.
Ohemaa Woyeje, on the 30th day of January 2019, tendered in her resignation letter to her boss at Multimedia. She quit her job as a presenter amidst controversies that informed that decision.
Ohemaa Woyeje, after months of staying away from the media terrain, got another gig at Angel Group of Company's Angel FM 102.9 at Accra now as host of the mid-morning Y'adwuma Nie. It feels good to be back. Wink!
Giovanni Caleb
He is one of Ghana's fast-rising Radio and TV Presenter. Giovanni Caleb was a strong figure at EIB NETWORK, he hosted Starr Drive and co-hosted Duvet with Ms Nancy.
Giovanni filled his resignation letter to the EIB NETWORK a couple of months ago, though his reasons were unknown to the public. The media personality has in recent times been in interviews regarding his exit from the Gh one and Starr FM.
Giovanni Caleb now at 3FM, a radio brand of Media General- owners of TV3, is the host of 3FM Drive and 3FM Drive Bus Ride Edition cohosted by Berla Mundi.
Manasseh Awuni Azure
Manasseh Awuni Azure is a freelance journalist who worked with Multimedia Group Limited in Accra for seven years. He was noted for his phenomenal style of journalism during his time at Multimedia as being an undercover investigative journalist with many of his expose causing a national uproar.
Manasseh Awuni Azure is currently the head of Investigation at Joy FM and Joy News, subsidiaries of MGL. Ghpage.com can confirm.
Kwame Tutu
Kwame Tutu is a renowned media person who hosts the morning show "Anopa Nkoma" at Rainbow Radio. Prior to his current job he was then a presenter at Class Tv where he hosted the morning show for close to four years.
One of Ghana's finest brains on Radio Kwame Tutu moved to his current workplace Rainbow Radio after he had a good deal compared to the previous.
Afia Pokua (Vim Lady)
Afia Pokua, the outspoken and popular media personality who in years have been up and doing with her journalism duties was with Multimedia's Adom Fm as an editor and news anchor.
In 2019, she abdicated her post after 17 years of service at Adom FM and moved to Despite Media's United Television (UTV) and now the host of "Mmara No Se Sen" a show that seeks to teach viewers about the fundamentals of the law.
Gloria Akpene Nyarku (MzGee)
2019 was a year Multimedia Group can not take off their diary. They were faced with a series of resignations within the workforce. MzGee was no exception.
Gloria Akpene Nyarku (MzGee) the on-air personality in 2019 left Multimedia for Media General"s TV3 and 3FM where she is currently the presenter of an entertainment show and host of mentor Reloaded reality show.
The Year in review 2019
, had lots of top media personalities crossing paths from their former media houses to another, this in a way came as shock to the populace.
Ghpage.com will follow this year's Media Landscape for any updates. Stick and stay with us.