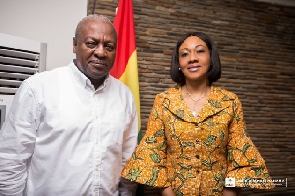 The flag bearer of the largest opposition National Democratic Congress (NDC), Mr John Dramani Mahama, has admonished the Jean Mensa-led Electoral Commission (EC) to maintain the high professionalism bequeathed to her by her predecessors.
Mr Mahama said Mrs Mensa has no excuse but to be professional in the December polls.
The former President stressed that the eyes of the world are on Ghana and, therefore, the EC cannot afford to fail.
Though there were some few recorded skirmishes, Ghana was praised by neighbouring countries and the world for its democratic credentials after the 2016 elections.
In his New Year message, Mr Mahama said the 2020 elections would determine the destiny of the country.
He added that Ghanaians deserve a government that does not give excuses but rather gives results.
"The year 2020 is an election-year, and the eyes of the world would continue to be fixed on us, as we go to the polls. We need to meet the high standards set by previous Electoral Commissions and even better it.
"I do not say it lightly when I say that the 2020 election will be a pivotal event for our country. It is one that will determine the destiny of our nation. I believe at this critical stage in our nation's life, Ghanaians deserve – more than ever – a government that is honest and truthful with them. A government that takes responsibility and gives them results, not excuses or blame.
"A government that opens the opportunities of our country to all its people, and not just a few," Mr Mahama said.