In a typical Ghanaian society, certain practices are frowned on. In view of this, western cultures are not liked and if by any means individual moves away from the norms and ethics of the society, that individual is sidelined in the society.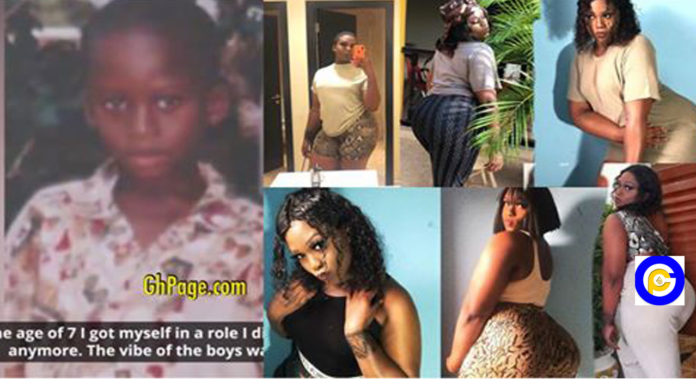 It seems, nowadays many are those who have moved away from the typical Ghanaian society's norm to go on with their lives and it's gradually gaining grounds.Today, Ghpage.com has sighted one individual making waves on social media by name Ohemartin.
Ohemartin a Ghanaian transgender who has broken the internet with stunning photos tells how she relates to society being a transgender in an interview with PulseGhana.
Ohemartin born Martin Hughes in an interview with pulseGhana made many revelations as to why she transformed her state a boy to a girl. In the interview, she revealed how she wanted to be a girl back then as she realized she was in what she termed as a wrong body.
She said "I caught myself in a role I didn't want to play anymore at the age of 7. The vibe of the boys was annoying. I think it was toxic for me because I felt like a boy playing with girls," in the interview.Ohemartin who attended Mfantsipim High School had this to say about her life in school.
"It was a hypocritical system. You have boys telling you stuff, proposing to you and all but in the eye of the public, they will be judging you. High School was the trouble. That was stress. The real hard life because I went to a boy's school. I was in Mfantsipim School and it was stressful."
Watch the video below:
Again, in the interview, she disclosed she has fully transgendered into a full-grown woman without undergoing any surgery. She also revealed men are in her dm ready to go pants down with her but she is a Christian and wouldn't do that however she's tagged as a sinner for transgendering.